Above  is an original 1920 photo (far right segment) of the larger photo shown just below. It presents an exciting moment in international business relations, an early U.S. Japan trade/economic alliance being formed, while at the same strengthening U.S. Japan political and cultural relations. This gathering took place at the home of Baron Shibusawa (seated front row, seventh from the left in the below photo).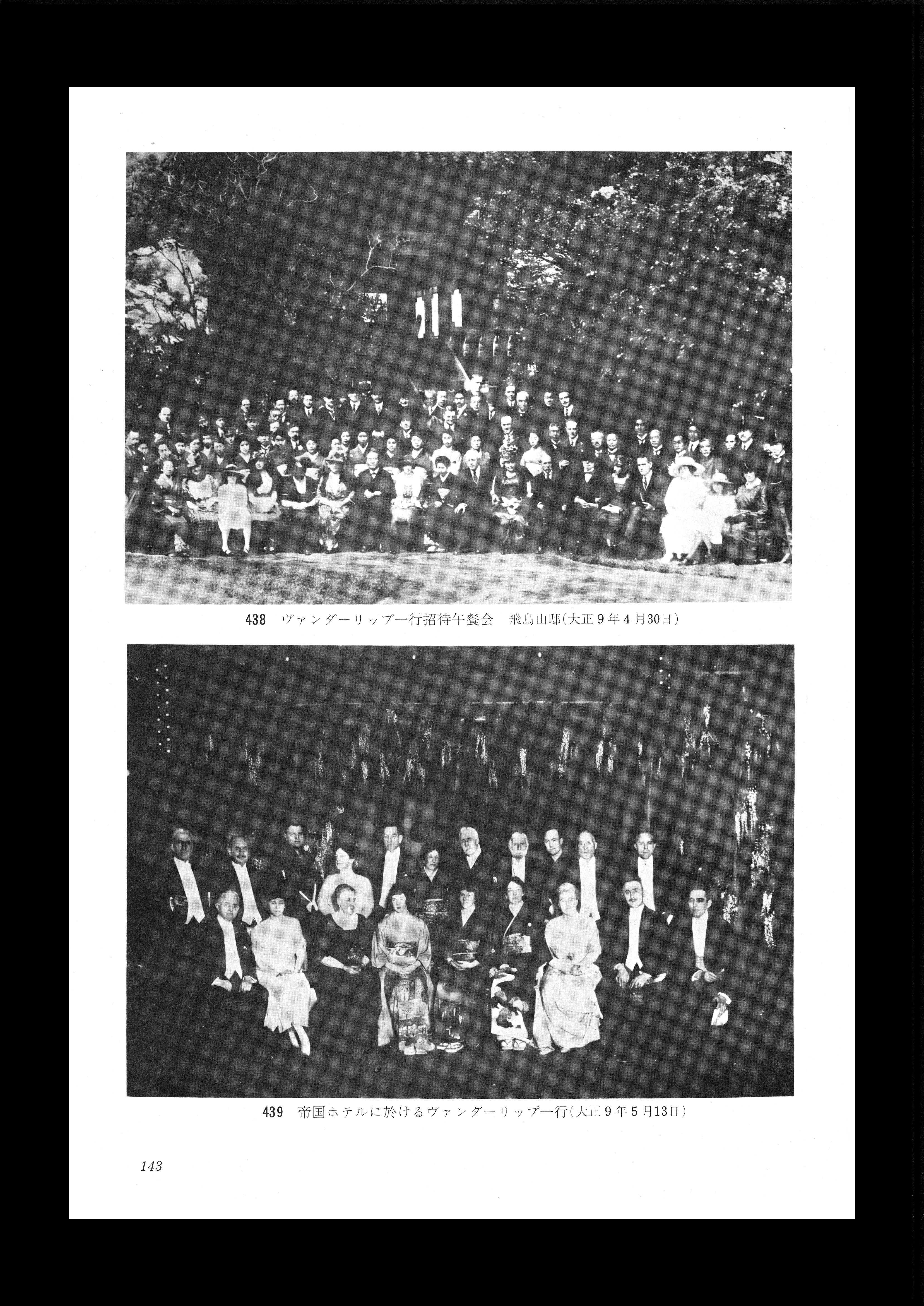 The successful American banker and journalist Frank A. Vanderlip (seated 10th from the left in the upper black and white photo, and standing 7th from the left in the lower black and white photo.
Vanderlip headed this U.S. business delegation to Japan, where he was met by Baron Shibusawa Eiichi and other Japanese business and governmental leaders. Vanderlip was the former Assistant Secretary of the U.S. Treasury from 1897 to 1901 and major contributor to the future creation of the U.S. Federal Reserve System. Baron Shibusawa is known as the Father of the Japanese Modern Capitalistic Economy, who among his many accomplishments launched Japan's first national bank. In 1909, Vanderlip became the president of National City Bank which held more capital than any other bank in the U.S.
The above 1920 photo was taken following a special dinner hosted by Shibusawa Eiichi for Mr. Vanderlip and his family, along with their accompanying U.S. delegation. Several of individuals in the above photos have been identified. The remaining Japanese individuals will hopefully be identified in the future and this article will be updated.
The invited American guests of the day are as follows
Mr. Frank A. Vanderlip and Mrs. Vanderlip, and their daughter(s). (Mr. Vanderlip is standing 5th from the right in the bottom black and white photo, shown above.)
Mr. Harry E. Benedict – nationally known executive and economist,
Mr. Henry W. Taft and Mrs. Taft – Henry Waters Taft (May 27, 1859 – August 11, 1945) was an American lawyer and author. He was the son of Alphonso and brother of President William Howard Taft. A renowned antitrust lawyer, he was a name partner at Cadwalader, Wickersham & Taft.
Mr. Jacob G. Shurman and Mrs. Shurman –  Jacob Gould Schurman (May 2, 1854 – August 12, 1942) was a Canadian-born American educator and diplomat, who served as President of Cornell University and United States Ambassador to Germany.
Mr. Darwin Kingsley and Mrs. Kingsley – Darwin P. Kingsley ~ PRESIDENT NEW YORK LIFE INSURANCE CO – 1906-1930
Mr. Julian Street and Mrs. Street, and daughter
Mr. Seymour L. Cromwell and Mrs. Cromwell – President of the New York Stock Exchange
Mr. Lewis L. Clark and Mrs. Clark, and daughter
Mr. Lyman Judson Gage (June 28, 1836 – January 26, 1927) was an American financier and Presidential Cabinet officer.
Mr. George Eastman – George Eastman (July 12, 1854 – March 14, 1932) was an American entrepreneur who founded the Eastman Kodak Company and helped to bring the photographic use of roll film into the mainstream. He was a major philanthropist, establishing the Eastman School of Music, Rochester Philharmonic Orchestra, and schools of dentistry and medicine at the University of Rochester and in London Eastman Dental Hospital; contributing to the Rochester Institute of Technology (RIT) and the construction of several buildings at the second campus of Massachusetts Institute of Technology (MIT) on the Charles River. In addition, he made major donations to Tuskegee University and Hampton University, historically black universities in the South. With interests in improving health, he provided funds for clinics in London and other European cities to serve low-income residents. NOTE: The author of this blog post lived in Rochester for 10 years and got the chance to see many of the above fine institutions that George Eastman created. (Eastman is seated far left in the lower black and white photo, shown above.)
Mr. J. Lionberger Davis and Mrs. Davis – J. Lionberger Davis (John Lionberger) was born in St. Louis, Missouri in 1878. He was a lawyer and banker; he graduated from Princeton in 1900, and studied law at Harvard and Washington University. He was founder and chairman of the Real Estate Mortgage Trust Company and the Security National Bank Savings and Trust Company in St. Louis, Missouri. During World War I, Davis served as managing director of the Alien Property Custodian from 1917-1919. He was an active Democrat and personal friend of Presidents Woodrow Wilson and Franklin Roosevelt. He died in 1973. Lionberger was an avid collector of fine art. Much of his art collection was gifted to various art museums around the country.
Mr. Edward Mulligan – might have been a banker.
Mr. Harry Serenbetz
Mr. Ballantine and Mrs. (details unknown); (spelling Valentine?)
Mr. Bors (details unknown)
*Note: Some of the information in the blog post was kindly provided by an individual who is included in the Comments Section at the end of this Blog Post.
Frank A. Vanderlip (November 17, 1864 – June 30, 1937)
Below is a 1909 photo of Frank A. Vanderlip – Source: Wikipedia, from the book: The World's Work, 1909, by the Brown Brothers.
Baron Shibusawa Eiichi (渋沢 栄, March 16, 1840 – November 11, 1931, aka Eiichi Shibusawa) was a Japanese industrialist who spearheaded the introduction of Western capitalism into Japan after the Meiji Restoration of 1868. 
Photo date unknown – Source: Wikipedia
Baron Takuma Dan (團 琢磨, September 7, 1858 – March 5, 1932) is on the far right of the 1908 photo of the original photo segment . He was a graduate of Massachusetts Institute of Technology and was married to the younger sister of statesman Kaneko Kentarō. Dan was a successful Japanese businessman who became Director-General of Mitsui & Co., Ltd. (三井物産, Mitsui Bussan) which is currently one of the largest sogo shosha (general trading companies) in Japan. It is part of the Mitsui Group, and its business sectors include energy, machinery, chemicals, food, textile, logistics, finance, and more. The company was established in 1876 with 16 members including the founder, Takashi Masuda.  
Takuma Dan – photo date unknown: Source Wikipedia
Baron Takamine Mitsui (三井 高棟, 8 February 1857 – 9 February 1948) is on the far left in the original photo segment.
In 1919, Takamine Mitsui was considered for the position of Japan's new ambassador to the United States. At the time, he was the richest man in Japan and the head of the successful, centuries old, Mitsui family. He had worldwide commercial and financial interests and was described in the Press of his own country as the 'Japanese Rockefeller'.
Baron Takamine Mitsui – Source: press photo circa 1919
Baron Takamine Mitsui
日本語: 三井高棟
Photo date: October 1913
Source  Japanese book "Kazoku Gaho (Pictorial Peerage of the Empire of Japan)" published by Kazoku Gaho Sha.
日本語: 華族画報社「華族画報」より。
No reference photo could be found for Masao Shibusawa, son of Baron Shibusawa.
The below photo is from the 1920 original photo segment which shows what the author of this blog FIRST believed to be Masao Shibusawa. Verification from historians would be appreciated in confirming this information. During the 1920s, Masao Shibusawa was President of Tokyo Ishikawajima, a shipbuilding and engineering firm that also manufactured of cars, trucks, and small buses. This company would be part of the early history of domestic car manufacturing in Japan, leading to the company Isuzu. Source: The New Domestic Automakers in the United States and Canada: History, By A.J. Jacobs, Publisher: Lexington Books, 2016
Below photo: At first, incorrectly, the below individuals were assumed to be Baron Shibusawa left, with his son Masao Shibusawa right. It is not yet clear who they are.
The above photo is a section of the original 1920 photo segment: Left: Baron Mitsui, the right photo might be: Taka Kawada
The above 1917 reference photo presents: Baron Shibusawa Eiichi and Taka-Kawada: two of the Greatest Financiers in Japan. The photo was taken on the porch of Baron Shibusawa's home. Shibusawa was known as the Father of Modern Banking and Economics in Japan (seen as the J. P. Morgan of Japan.) Above information: "Journal of the American Asiatic Association" volume 17, March 1917-Dec. 1917: the article is titled: Japan's Prosperity The New Wealth and Its Measure of New Reserve Power written by S. Joseph Reed, Jr. (The article relates to Japan's economy and to the shipbuilding industry.) Photo source: archives of the author of this blog post.
ADDITIONAL DETAILS ABOUT THE 1920 original PHOTO segment:
This rare photo was discovered six years ago by the author of this blog post, while doing research for an illustrated biography on Prince Tokugawa Iesato (aka Prince Iyesato Tokugawa 1863-1940), titled: The Art of Peace. The biography highlights the significant political, economic, and social welfare contributions of Prince Tokugawa Iesato  and Baron Shibusawa Eiichi who often allied with one another to achieve Japan's domestic and international goals. It offers a new perspective on U.S. Japan relations, during the first half of the 20th Century.
At first, it was largely a mystery as to who the individuals were and what the date of this photo was as well, and what was the event that brought these individuals together? This was not a press photo, which generally has description printed on the back. Research into newspaper archives found only one article that mentioned a large U.S. business delegation visiting Japan in Dec. 18, 1908, but this article didn't list even one name of the U.S. delegates. This article did however state that the U.S. delegation was met by leading Japanese, but none of those Japanese were identified.
It appeared that this photo was most likely taken as a personal memory of Frank A. Vanderlip and his business delegation's visit to Japan.
As part of the research, an inquiry was made with the Shibusawa Eiichi Memorial Foundation and Museum, an organization that honors the legacy and values of Baron Shibusawa and his allies. This organization was started over 120 years ago and is based in Asukayama Park in Oji, Tokyo, on the site of the former Shibusawa residence. The head of their library resources section kindly confirmed they didn't know that Frank A. Vanderlip, along with his family, and his U.S. business delegation might have visited Japan in 1908 and that he might had met with Baron Shibusawa and other Japanese business leaders. Since that time, new information was provided that revealed that this meeting of East and West occurred in 1920, not 1908.
Here is the link to the Shibusawa organization's website: https://www.shibusawa.or.jp/english/
The 1920 photo is 10 inches by 3.5 inches in size.
The reverse side of this significant, but age weathered photo is shown below.
Written in ink are the words:
"DINNER BY
BARON SHIBUSAWA
TO VANDERLIP MISSION"
If there had been a meeting between a Vanderlip business delegation and Japanese economic leaders in 1908, the reason for the limited press coverage for this meeting might well be that the participants wished privacy as they discussed urgent U.S. economic issues and the unstable and potentially adversarial political relations between the U.S. and Japan.
On the economic front this meeting was quite urgent, because of a recent, major economic downturn in the U.S., called The Panic of 1907, also known as the 1907 Bankers' Panic, linked to the collapse of the U.S. Stock Market. Based on this U.S. economic crisis, a 1908 US business delegation visited Japan most likely had the goal of working together with their Japanese allies to bring back a stable and prosperous U.S. economy by increasing U.S. Japan trade & through the Japanese extending financial backing thru loans to the U.S. – These supportive measures would simultaneously improve the economy of Japan, and hopefully strengthen U.S. Japan political and cultural relations.
The below photo presents Wall Street during the Bank and Stock Market Crash which was called the 1907 Bankers' Panic. Anxious crowds gathered around Federal Hall, one of the first of two historic buildings located at 26 Wall Street in the Financial District of Manhattan, New York City. The original, a Federal style structure completed in 1703, served as New York's first City Hall. Notice the statue of George Washington in front of the building. Source of photo: Wikipedia
Below is the newspaper article believed to be linked to the Vanderlip/U.S. 1908 business delegation visit to Japan:
Courtland Journal (Courtland, Kansas)
December 18, 1908, Friday, Page 2
This news article did not have a title, but appeared in a column with the heading:
"THE COMET"
A. Hoyt Publisher, Courtland, Kansas
Below is a transcription of the December 18, 1908 Courtland Journal article, followed by the scanned newspaper article:
"That visit of a big delegation of businessmen from the Pacific coast of the United States is having good results in Japan. The reception accorded the Americans, both on the part of officials and of the people of Japan generally, has been of the most cordial sort. The delegations has sailed for home, but before doing so held a meeting and adopted resolutions expressing pleasure in the friendship and good-will prevailing between the two nations, and urging the adopting of plans "whereby the commerce of the two countries may be increased and the friendship of the Japanese and American people made perpetual." Intercourse such as that provided by the interchange of such visits will go far toward promoting those ends and removing all cause for misunderstanding."
The following year, 1909, Shibusawa headed a Japanese business/goodwill delegation to the United States, that included 40 of Japan's most prominent business leaders and notables. They came at the invitation of the Seattle Chamber of Commerce and the Associated Chambers of Commerce of the Pacific Coast. The Japanese delegates and their companions traveled from Pacific to Atlanta, and back again, touring and being welcomed in over fifty U.S. cities. The newspaper: The Buffalo Commercial – 05 Oct. 1909, Tue • Page 1 – gives some general details about Shibusawa and his Japanese delegation's three month journey and states that that visit was in reciprocation for the fine hospitality given to the U.S. delegates during their 1908 visit. However, no mention is made that the 1908 visit had been headed by Frank A. Vanderlip, nor was there mention made that any photos had been taken of the Japanese and the U.S. representatives coming together in 1908. 
With the goal of identifying all of the individuals in the below 1920 Photo, below are enlarged segments of that photo with the individuals given ID numbers. Those who are already recognized are named. Hopefully, historians or family members who visit will be able to assist in identifying those who haven't yet been recognized. This information can be sent thru the comment section of this blog post. Thank you.
From: Right to left
1- Might be: Baron Takuma Dan (團 琢磨, September 7, 1858 – March 5, 1932)
2- Might be Baron Shibusawa's son, Masao Shibusawa.
3- Might be Baron Shibusawa's son, Masao Shibusawa.
4- Unknown gentlemen with white mustache
5- Unknown gentlemen in top hat
From: Right to left
5- Unknown gentlemen
6- Unknown gentlemen
7- Unknown gentlemen
8- Might be: Taka Kawada (taller with black tie)
9- Baron Takamine Mitsui (三井 高棟, 8 February 1857 – 9 February 1948)
From: Right to left
10- Might be: Daughter of Frank A. Vanderlip
11- Might be: Daughter of Frank A. Vanderlip
12- Might be companion for the Vanderlip children.
In 1909, in reciprocation for a 1908 U.S. business/goodwill delegation's visit to Japan, Baron Shibusawa Eiichi, accompanied by his Japanese business/goodwill delegation toured the United States. During their visit, the Japanese were greeted by the Vanderlip family and top representatives of American Industry, such as General Electric and Westinghouse.
In the following year, 1910, Prince Tokugawa Iesato visited the U.S., to further strengthen the growing friendship between their two nations. Prince Tokugawa's 1910 goodwill visit was strongly linked to the 1912 gifting of the Cherry Blossom Trees to the U.S. Capital, whose commemoration is now celebrated annually as the National Cherry Blossom Festival.
The Art of Peace biography presents Prince Tokugawa and his Japanese allies who creatively supported democracy and peace. For thirty years (1903-1933), Prince Tokugawa served as President of Japan's upper house of congress, the House of Peers.          
The below May 5, 1910 – The New York Daily Tribune newspaper article announces the coming arrival of Prince Tokugawa to New York City, after his and his delegation's visit to Washington D.C. During this visit, Prince Tokugawa met with President William Howard Taft and many other U.S. governmental leaders.
As for Frank A. Vanderlip, in 1910 his services were required for secret business gatherings where press coverage was kept to a minimum, when Vanderlip came together with other U.S. financial experts on Dr. Jekyll Island, to plan out the creation of initial framework for the U.S. Federal Reserve System, a system which would play an important role in stabilizing the U.S. economy by overseeing the U.S. currency supply, to avoid similar events such as 'The Panic of 1907'.
The below December 24, 1913 newspaper article highlights President Woodrow Wilson's new currency laws as part of the establishment the U.S. Federal Reserve System. Source of illustration: Wikipedia
In 1915, Baron Shibusawa Eiichi again visited the U.S. on a diplomatic goodwill/business visit.
New-York Tribune (New York City), Dec. 3rd, 1915, Friday, Page 9.
To honor Baron Shibusawa's visit, on December 2, 1915 a dinner event was hosted by the Japan Society of New York City at the grand ballroom of the Hotel Astor. At this gathering, Viscount Sutemi Chinda the Japanese Ambassador to the U.S. spoke of the growing positive relations between the U.S and Japan. There were 360 guests who attended this dinner and dance.
During his 1915 visit, Baron Shibusawa met with President Woodrow Wilson.
Another significant event linked to honoring Baron Shibusawa's 1915 visit was held at a well-known restaurant in New York City, called Sherry's. Among the 65 attendees who attended this banquet were former Presidents Theodore Roosevelt and William Howard Taft – A rare, perhaps one of a kind photo of this 1915 event is presented in another Blog post on this website.
Note: Upcoming blog posts will present other significant historical photos that require further identification of the individuals and of the events depicted – Historians/educators/researchers are invited to share their insights so as to bring greater clarity to these mysterious pieces of history. Your contributions will be acknowledged – To receive these future blog posts, you're invited sign up at the top right.
BELOW IS A LINK TO A NEWSPAPER ARTICLE THAT COVERED THE 1920 MEETING BETWEEN THE VANDERLIP BUSINESS DELEGATION AND SHIBUSWA EIICHI, AND HIS JAPANESE COLLEAGES.
https://www.newspapers.com/image/208940552/?terms=shibusawa%20meets%20with%20frank%20vanderlip&match=1
In 1920 Frank A. Vanderlip became the president of the Japan Society of New York City.
The below information comes from the Japan Society website: https://www.japansociety.org/page/about/brief_history
"Japan Society of New York, established in 1907, was one of the pioneers of cultural exchange in the early 20th century. Begun in a time when few Americans knew anything about Japan, it quickly reached a wider audience than the few learned societies that focused on Asia at the time. Japan Society not only hosted leading Japanese visitors to the United States, it sponsored the first important exhibitions of Japanese art, published important books on Japan written by American experts, and promoted the study of Japan in American schools and universities by distributing learning materials and providing funds for prizes at the collegiate level. Throughout the 1910s and 1920s, it became the leading forum for Japanese to encounter their American counterparts abroad.
As political and racial tensions worsened between Japan and the United States in the 1920s and 1930s, the Society steadfastly refused to take a political stance, preferring education to advocacy. Nonetheless, Japan Society worked with other internationalist groups, such as the Carnegie Endowment for International Peace or the America-Japan Society of Tokyo, to increase contact between Americans and Japanese at all levels. The Society's Annual Dinner became a venue for leading Japanese statesmen to give major addresses on the state of the U.S.-Japan relationship."
Japan Society recognized Prince Tokugawa as their guest of honor at their 1934 Annual Dinner Celebration.
During Prince Tokugawa's 1934 visit to the U.S., he was also greatly acknowledged by a prestigious university – The cover of the below biography highlights Prince Tokugawa receiving an Honorary Doctor of Laws Degree from the president of the University of Southern California, for his contributions to education, international goodwill, and philanthropy. 
THE ART OF PEACE highlights Prince Tokugawa and Baron Shibusawa, along with their Japanese and non-Japanese allies as they creatively promoted democracy and international goodwill during the first few decades of the twentieth century, an exciting, but often turbulent period of history.
THE ART OF PEACE comes in two versions: a general reader edition and an 'expanded' edition which has an additional 100 pages of historical notes and a comprehensive index to assist researchers.
AVAILABLE THRU AMAZON LINKS BELOW:
Bibliographical Sources for this blog post:
Courtland Journal (Courtland, Kansas) December 18, 1908, under a column with the heading: "THE COMET", H. A. Hoyt Publisher" [Technical research details: Please note: It was difficult to discover this newspaper article online, in that no names of the participants were given by the U.S. press. So to find it, required entering the Search words: "Business delegation visits Japan" and the date period "1907-1908" on archival websites. If instead the search words for name of the newspaper "Courtland Journal" with the publication date "December 18, 1908" were used, no successful search results occurred.]

TheEmperorAndTheSpy.com.

Katz, Stan S. (2019). The Art of Peace, California: Horizon Productions. ISBN 978-0-9903349-2-7

"COMMERCIAL EMISSARIES FROM MIKADO'S LAND ARE GIVEN WELCOME". "The Butte Miner" (Butte, Montana) page 10. September 15, 1909.

"TO MEET PRESIDENT – TAFT WILL MEET JAPANESE EMISSARIES AT MINNEAPOLIS – Baron Shibusawa Has Message From Emperor to Present to Chief Executive". The Butte Miner (Butte, Montana). September 15, 1909.

""JAPANESE VISITORS WHO WERE IN THE CITY YESTERDAY" (Prince Iyesato Tokugawa leads a Japanese goodwill delegation to Washington, D.C. and then to New York City, as part of the gifting of the Cherry Blossom Trees to the United States)". The New-York Daily Tribune. May 5, 1910.

"JAPAN AFFAIRS ROSY, SAYS ENVOY" Relations with U.S. Decidedly Gratifying, Chinda Declares. Shibusawa Hopes for Lasting Peace. "Greatest Man of Affairs" Ends Strenuous Day as Guest at (Japan) Society Dinner: New-York Tribune, New York, New York, December 3rd, 1915, page 9.

"WILSON MEETS SHIBUSAWA. Welcomes Japanese Financier, Who Also Pays Visit to Lansing." New York Times, published Dec. 7, 1915
If you enjoyed this illustrated article – Click the Like Tab at the top of the page and consider sharing it with your friends – Thank you.